So you want to be the coolest mom or dad who throws the best birthday party in the neighborhood, but haven't got a clue? Well, keep turning the pages and Mystery Mike will show you what to do.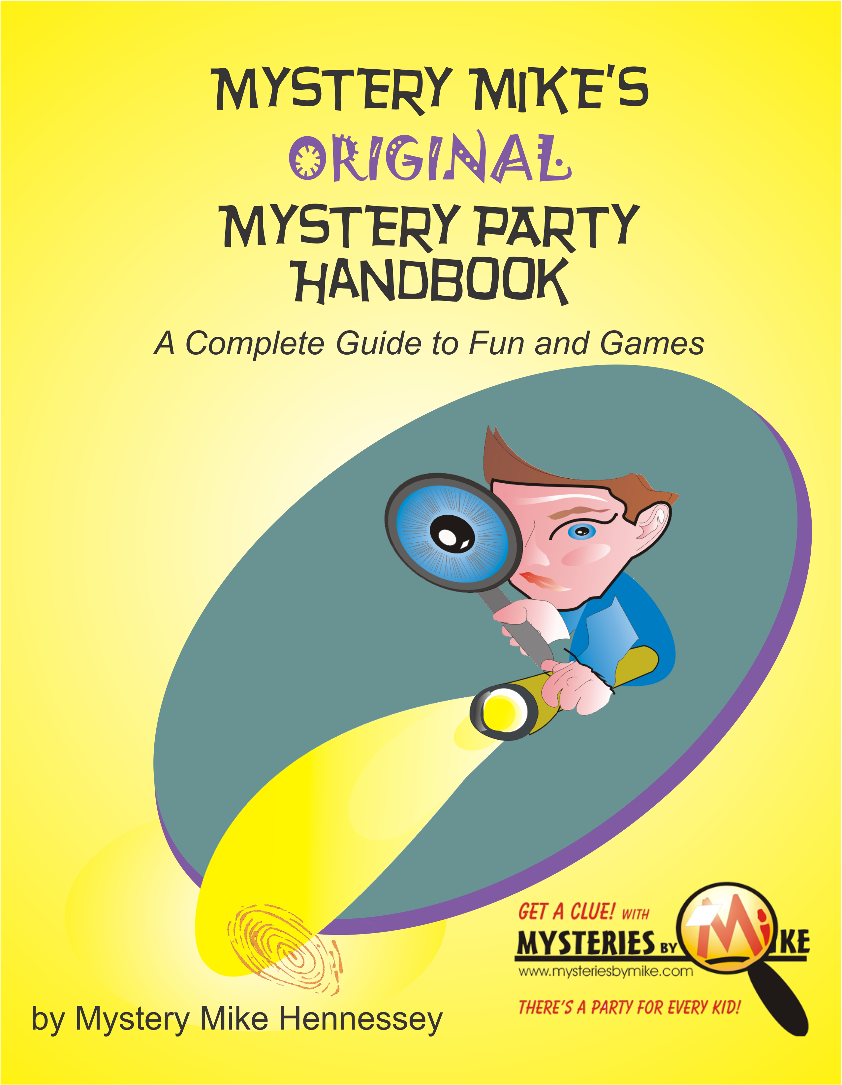 Yes, the secret is out: this is Mystery Mike's "Original" Mystery Party Handbook! It's Hollywood's number one mystery party for children! It's also a party that's a great bargain for the parents.Click here to see sample pages of the handbook.
Mystery Mike's "Original" Mystery Party Handbook will take you step by step to help you create the best Mystery Scavenger Hunt party you and your family have ever experienced. The game will challenge the kids to use their brain power, practice teamwork, learn good manners and kick up everyone's -- including mom's and dad's – creativity. You will have plenty of fun and laughter while you're at it, and in the end, be rewarded with goodies for all their efforts.
This mysterious journey on which you are about to embark will result in a wonderful, interactive, educational mystery show. The children will also become Junior Detectives to help solve a mystery -- a "crime of burglary," in this case. The best thing about this book is that it can be used again and again as it inspires you to create a new mystery whenever and wherever you are -- whether it's for a birthday, a school project or just for a rainy day. It also works for teenagers in a neighborhood scavenger hunt, and even for adult team-building exercises in corporate environments. For the corporate-minded adults, the opposing teams can create riddles and clues to stump the other teams, and incorporate their respective business aspects into the game. (A separate book to follow.)
We hope you enjoy your experience with our Mystery Manual. A lot of experience and heart have gone into creating an engaging, fun way to help you have the best party ever!
Please feel free to email Mystery Mike any comments you have about the book to Mike@MysteriesByMike.com, and we may even put them up on our comment board.
Mystery Mike Hennessey is Hollywood's number one mystery party planner for children. He has thrown parties for such celebrities as Dee Wallace, Deidre Hall, Arnold Swartzanager, Michelle Pfiefer, Skeet Ulrich, Rainn Wilson and more. He has produced and performed in over 10,000 children's birthday parties for 15 years throughout the Southern California and Nevada area. He has written more than 100,000 riddle-clues for over 250,000 very happy and engaged children. And a great time was had by all!


---